05 mars 2010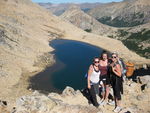 After 20 hours of bus, three incredibly lame movies (Spiderman 3, 2012 and i forget the third), a big snoring man, two disgusting meals, but a pretty good sleep and a fun ride, we arrive in Bariloche, the very beginning of Patagonia, the region of the lakes and low moutains, the Argentine' Switzerland. We have nothing organised, have just booked the first night in a hostel in the center; we are free like the good and dry (finally!!) air of Bariloche.
As we are waiting in the common room of the hostel that our bedroom be ready, I overhear one of our fellow backpackers relating to yet another, that he is just returning from the best hike he has done here. Important precision: he is coming back from three weeks in Patagonia del sur. I'm definitely interested by this conversation, I want to know more, I ask him details. It is nothing that we have read in any of our guides, and something that the tourist information center will only accept to tell us about after insisting long and showing mucho confidence and determination. We have to do it, the girls (Caroline and Hannah) are easily convinced, and we even added to our troop the company of Jan, from Germany and travelling on his own. We're booked for the next day.
After waiting for 2 hours for the bus (but which again will turn out to be a good thing as we will meet Davin aka 'Into the wild man', and his 35 kg mochila (backpack) on for a 7 day hike by himself in the mountains, and who will stick with us during the hike, teaching us mountain survival tricks (did you know that rubbing banana skin on mosquito bites relieved the itchiness?).
It's a 4/5 hour hike on rocks after taking a chairlift, a very fun (if not afraid of height) sometimes a little dangerous hike, amazing views over lakes, moutains and cascades. On the other side of our rocky moutain we go down to a first glacier's lake, and then a second one, next to which lays Refugio Frey. It's absolutely magical. We're not even tired. A (quick) swim in the (coldissima) water, some sun bathing on the rocks, card playing, pasta cooking (in a kitchen with no electricity). We feel peaceful and rejuvenated. Tomorrow we'll go down the other route through the forest.
It's only our first but already we know we have done the best thing of the whole trip. But we're at least learnt something: who needs a guide when you can listen to people's conversation? We therefore ask the argentine hiker sitting at our table in the refugio what he would advice us to do next: Volcano in chile. We're on it!
...little did we know that the next day an earthquarke would compromise our plans.
Commentaires sur Travelling or the art of eavesdropping