23 mai 2010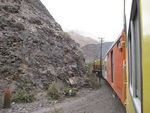 Long due, I'm back on tracks and in a nutshell here are the highlights of my experiences during my month-long trip the North West of Argentina and Bolivia.
I'm definitely not a loner and usually dread staying alone but I'm not the most social person either and will not hang out with people just for the sake of it. Especially when it comes to meeting backpackers in hostels, for the most part aussies (sorry...) on a 4 month-world tour, mainly interested in being loud, drunk and half-naked. Thanks to them I think I might have found my inner peace...sometimes nothing is better than being alone.
I almost died riding on the "tren de las nubes" which is ironic as it literally means "the train to the clouds"- when a huge rock dislodged from the side of the mountain (the train runs through the mountain at 4000m) and broke through the window landing about 10 cm from my feet, exploding glass everywhere around us. Luckily noone was hurt, just very shocked.
I have seen mountains of every possible color in Salta, have been thrown into a Dali painting during the Salt Flat tour, drank 96° alcohol chewing on coca leaves whilst praying to the Pachamama (Goddess of the mountain) inside a mine at 4200m, have eaten on the streets in Bolivia without being sick and walked around the country without getting robbed, yet I have not been able to see one single animal, not even a mosquito, during my three-day trek in the Amazonia jungle.
Traveling with boys is nice, there is much less drama than with girls. But then again you have to be prepared to be left alone due to very last minute change of plans. Just being practical...ahh guys...
In Bolivia, getting information is a lost mission. The thing is, "out of respect" (...) Bolivians will always give you an answer to your question whether they know it or not (and to be fair they usually don't). You end up far from the place you wanted to go, doing things you hadn't planned, and losing a lot of time. I guess you have to be patient and flexible. I'm still learning.
Walking, smoking, running at 5000m of altitude is now no challenge to me. Back to sea level walking feels like flying and breathing makes me high.
After a month spent in the Andes, being back in Buenos Aires is like being back in Europe, and it could almost seem a little boring...Fortunately I just started working in a social circus so i'm in for some nice surprises!
Commentaires sur Ce qui est fait n'est plus à faire